Pluk Asia
Entering the Asian Market
The Asian market is huge and still growing. Thinking of taking your business, product, service or production into Asia? Be sure to rely on specialists. Because successful expansion in Asia requires a keen understanding of the cultural sensitivities. Such as awareness of local customs, behavior, language and dialects, social structure and class. Every country in the Far East is different. And Pluk knows these cultural differences like no other. Our experienced staff and strong local ties guarantee the success of your expansion plans.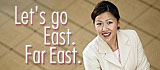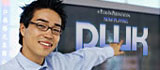 The Ideal Start
Literal translations won't be of much use to you. Pluk takes your idea, plan or script and carefully sculpts it into the native language of your target group. All the important cultural nuances and differences are taken into account. Because, after all, different countries often have a totally different idea about time and quality. The journey that your concept and script will make is an ongoing challenge – from start to finish. Pluk has a treasure trove of local knowledge about China, Hong Kong, Japan, Korea, Taiwan, Thailand, Cambodia and other Asian countries. So if you have plans to expand in Asia, Pluk is committed to make things really easy for you.
Gangnam Style
Supervision, coordination or production work? Pluk offers a whole range of services tailored to your needs. We manage your project from beginning to end, or handle just a few specific elements of the job. Pluk offers the following services for the Asian market:
Supervision
Pluk puts your recordings, acting, script translations and 5.1 mixing on the right track.
Multilingual translations
Pluk provides perfect translations of scripts, marketing tools, presentations and websites in multiple languages.
Production
Pluk streamlines your planning, logistics and coordination, and assists your production personnel.
Market knowledge
Pluk conducts extensive market research, analyses and opportunity assessments for you.
Development
Pluk helps you look for new products, services and concepts.
Dubbing and mixing
Pluk is a professional when it comes to dubbing and mixing your picture and sound material.
Do you want to push ahead with your project for the Asian market? Pluk translates for you and guarantees that your message gets to its destination. Please contact us today.
---
© 1991–2022 Pluk. All rights reserved.